You are here:
/
Tourism Superstar Award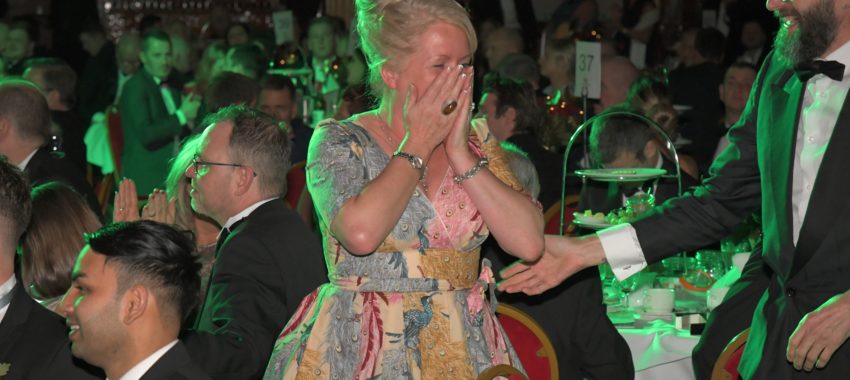 Tourism Superstar Award
The Tourism Superstar Award recognises and rewards those individuals who go the extra mile for visitors or bring life to the history and culture of our county and attractions. This is the only Lancashire Tourism Award that is decided by the public via an online vote.
The 2018 Tourism Superstar will be crowned at this year's Lancashire Tourism Awards event in November.
---
Lancashire Tourism Superstar 2017
Laura Johnson
Laura had a little idea back in 2011, of holding a small fair in a Church Hall, to bring together friendly and creative folk to sell their collections of vintage, retro wares, collectables and handmade wares. Her belief that there are so many talented people out there, quickly gathered momentum and very soon she needed larger venues to hold her fairs and Crafty Vintage Weekenders.
Crafty Vintage was formed to create the perfect retail environment for small independent companies to flourish, typically in spectacular and interesting venues that the whole family and visitors can enjoy. Through extensive creative promotion, industry awareness and listening to what customers want, her events soon achieved continuous high footfall at tourist destinations throughout Lancashire. Her team (a real family affair) now produce many events that attract thousands of visitors per day which brings additional revenue into the area and support many creative small businesses.
The Crafty Vintage portfolio of locations include Brockholes Nature Reserve, Hoghton Tower, Lancaster Castle, Holmes Mill, Accrington Town Hall. New venues, added in 2017, are Lowther Castle, Wyresdale Park at Scorton and Cedar Farm at Ormskirk. To date, Crafty Vintage has held 97 events, welcomed over 150,000 visitors, some of these travelling from as far afield as Scotland and Wales, bringing a total spend in the region of £1.25million to the county.
Over the years, additional elements have been introduced to their events including a varied lineup of entertainment, live music and DJ's. Street food is also very much on the menu, with an array of trucks presenting international flavours. The aim, to break away from the crowd and create their own independent spaces has seen  lovingly crafted products thrive in a world of mass produced junk and, in the six years since it launched, Crafty Vintage has been home to hundreds of makers, creators, designers, musicians, photographers, artists, and risk takers.
Laura took a chance on something so personal, with so much uncertainty, and is now helping others to achieve the same. Whether that's a printer, jewellery maker, wood worker, collector or simply anyone proud of what they make, they are all Crafty Vintage.
---
Lancashire Tourism Superstar 2016
Leye De Johns – Viva Blackpool
Leye started his working life in the NHS but as a natural showman, what had been a second job as a live entertainer, took a more serious turn when he and a co-investor set up Viva Blackpool.  Transforming a large empty Mecca Bingo Hall into a one room entertainment and events complex, dedicated to providing quality, live entertainment for Blackpool's many visitors. His first few seasons were tough but with tireless commitment Leye has in four years built audiences to 50,000 visitors, brought much needed jobs to local people and helped support many local charities that are close to his heart. Viva is a year round venue with a huge variety of in-house production shows, is host to visiting performers and with Leye D Johns as resident compere – Viva has become the talk of the town – for all the right reasons.
---
Lancashire Tourism Superstar 2015 
John Gillmore – BBC Radio Lancashire
John Gillmore has spent 3 decades on Lancashire's airwaves, living, loving and breathing our fantastic county and shouting about everything that's great and good about Lancashire.  His afternoon programme is an out-and-out celebration of the best places, people and businesses the county has to offer. He gives all his guests the same warm welcome and brings out the best in every one, as they tell their individual Lancashire story.  You'll regularly find him out and about broadcasting from locations across the county, meeting the people and sharing his passion for Lancashire with listeners and visitors from far and wide. Gilly knows Lancashire, he loves Lancashire and he believes in Lancashire.
---
Lancashire Tourism Superstar 2014
Sue Copp – Guest Services and Inclusion, Sandcastle Waterpark
Sue has worked at the Sandcastle Waterpark for 20 years and been an integral part of Blackpool's tourism industry for many more years. From working with donkeys on Blackpool beach, managing and running her own catering business, to a successful career at Sandcastle Waterpark she made a lasting impression on visitors and is a genuine ambassador for the resort.