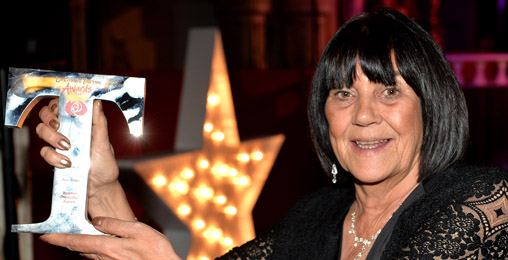 #VoteSueCopp for national Tourism Superstar Award
Public voting opens today (Saturday 31 January ) to decide the winner of England's Tourism Superstar 2015, run by national tourist board VisitEngland and supported by the Daily Mirror.
Lancashire's own Tourism Superstar Sue Copp, Guest Service & Inclusion Manager at Sandcastle Waterpark in Blackpool, won her Lancashire 'crown' at the Lancashire Tourism Awards in November and is now one of just ten shortlisted candidates for this prestigious national award.
Sue now needs people across the whole county to cast their vote. Colleagues in the industry, residents and the 63 Million visitors who choose to visit Lancashire each year, are now in the position to help make Sue Copp England's Tourism Superstar.
Each finalist has made their case to the public in a short film now featured on the Mirror website, where the public can also cast their vote. Voting closes on Saturday 28 February with the winner announced on March 14th, the first day of English Tourism Week (14 – 22nd March) with the winner invited to attend VisitEngland's Awards for Excellence held this May at The Sage, Gateshead.
"Sue's work at Sandcastle Waterpark in Blackpool absolutely deserves national recognition" comments Ruth Connor, Chief Executive of Marketing Lancashire "We were so pleased to highlight Sue's superb customer service skills at the LancashireTourism Awards 2014 where she won the title Lancashire Tourism Superstar. We urge Lancashire to #VoteSueCopp to reward her for the invaluable contribution she makes to the visitor experience. Her love of people is evident in everything she does and that's a very special gift."
Tourism Superstar was launched three years ago as part of English Tourism Week (this year running 14-22 March) and recognises the dedication and passion of those working in the tourism industry. The accolade is awarded to an individual who goes above and beyond the call of duty to ensure visitors to England have an unforgettable experience.
John Child, Managing Director of Sandcastle Waterpark said "Sue has worked at Sandcastle Waterpark for 20 years and is a hardworking, talented and dedicated individual, with the ability to extend her kindness to everybody. She is an inspiration to our whole team".
"As well as dedicating almost 50 years to Blackpool's tourism industry, Sue has worked tirelessly for the community and is passionate about delivering accessible tourism at Sandcastle. We believe there's no-one more deserving of this national accolade. Sue is our Tourism Superstar, we now have the opportunity to transform her into England's Tourism Superstar. Please #VoteSueCopp ! "
Domestic tourism in England currently supports an impressive 2.6million jobs and these nominees truly showcase and celebrate the individuals who are helping the country's tourist industry to thrive.
Cllr Graham Cain, Blackpool Council's cabinet member for tourism and leisure, said: "I'm delighted to hear that Sue has been shortlisted.This is a huge credit to both her and all the staff at the Sandcastle Waterpark who do a wonderful job in welcoming visitors. I would urge everyone in Blackpool and Lancashire as well as fans of the Sandcastle everywhere to get behind her by voting."
Tourism Minister Helen Grant said: "Huge congratulations to the fantastic superstars shortlisted. Record numbers of tourists are visiting us, so it's brilliant to see people rewarded for going the extra mile to give a great welcome. I hope that showcasing the careers of these superstars will inspire others to seize opportunities in this fast growing industry."
The shortlisted superstars are:
Andrew Archibald – Doorman at The Lowry Hotel in Manchester
Mark Brattle – Head Falconer at Leeds Castle in Kent
Sue Copp – Guest Service & Inclusion Manager at Sandcastle Waterpark, in Blackpool Lancashire
Chris Green – Zoo Keeper at The Cotswold's Wildlife Park and Gardens in Burford, Oxfordshire
Matthew –Engagement & Participation Team Assistant at Beamish Museum in
Henderson County Durham
Katie Neville – Period Interpreter at Shakespeare's Birthplace in Stratford-upon-Avon
Gerry O' Brien – Publican of The Churchill Arms in London
Clive Phillips – English Heritage Steward at Wellington Arch, London
Kevin Shurmer – Museum Sales and Interpretation Assistant at STEAM Museum of the Great Western Railway in Swindon, Wiltshire
Angela Tidmarsh – Tourism Officer at Wychavon District Council in Worcestershire
Vote Now for Lancashire's Tourism Superstar Sue Copp at mirror.co.uk/tourismsuperstar voting closes on Saturday 28 February.
Photo shows: Sue Copp, winner of Lancashire Tourism Awards 2014 Tourism Superstar, with Helen Grant MP, Minister for Sport, Tourism & Equalities on a recent visit to Lancashire.