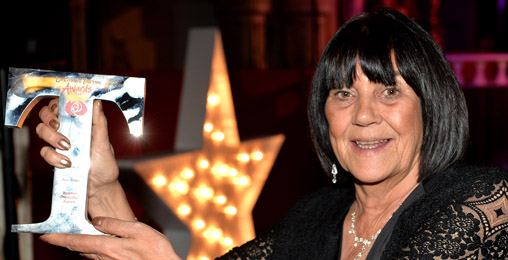 It's Time to Nominate Your Tourism Superstar 2015
Marketing Lancashire, the county's destination management organisation in association with the Johnston Press is searching for the unsung heroes/heroines who make a special contribution to tourism in Lancashire. The Tourism Superstar Award 2015 recognises and rewards those individuals who go the extra mile for visitors or bring life to the history and culture of our county and attractions.
Last year's winner Sue Copp, Guest Services and Inclusion at Sandcastle Waterpark, won the public vote in Lancashire, with her dedication to accessibility and her commitment to helping thousands of families and friends share the delights of this award-winning attraction. Sue then represented Lancashire in the VisitEngland Tourism Superstar 2015 and, after a national public vote, received a much-deserved Bronze award coming third in a shortlist of 10 from all over England.
Anna Izza, Head of PR and Communications of Marketing Lancashire said, "The Tourism Superstar award recognises individuals who make the visitor experience of Lancashire one they'll never forget; from larger-than-life characters who bring to life our rich history and heritage to colleagues whose passion for the county or commitment to customer service is simply exceptional".
"Each year this award goes to the very heart of the industry to reveal an individual who might not otherwise step into the spotlight, to receive the applause and appreciation of their peers."
Whether you work with such a tourism superstar or have experienced outstanding customer service in a Lancashire visitor attraction as a visitor, you can nominate someone for the Tourism Superstar Award 2015. Nominate via the application form on lancashiretourismawards.com. It is free to nominate candidates in the Tourism Superstar Award 2015 and applications must be submitted by 6pm on Monday 14 September.
A shortlist will be announced week commencing 5 October and at that point the public will be invited to vote for their ultimate Lancashire winner.
The Lancashire Tourism Awards Tourism Superstar 2015 winner will be announced at the event on Thursday 5 November in the magnificent Empress Ballroom at Blackpool's Winter Gardens. For more information and to view the full list of categories go to lancashiretourismawards.com or follow #LTA15 on Twitter.