You are here:
/
/
Tourism Superstar Finalists 2018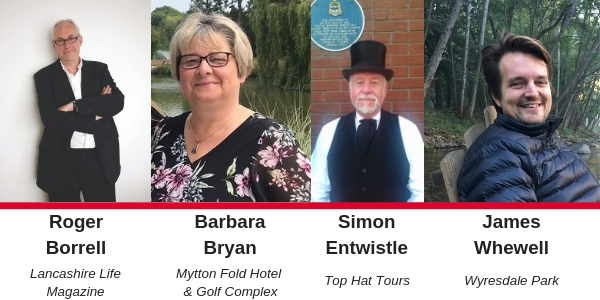 Tourism Superstar Finalists 2018
The Tourism Superstar Award recognises and rewards those individuals who go the extra mile for visitors or bring life to the history and culture of our county and attractions. This is the only Lancashire Tourism Award that is decided by the public via an online vote with our media partner Lancashire Post.
The 2018 Tourism Superstar will be crowned at this year's Lancashire Tourism Awards event in November.
Roger Borrell, Lancashire Life magazine
Since Roger Borrell became Lancashire Life's ninth editor, in 2006, he has not missed an opportunity to reveal all that's great about the county. At the helm of the UK's biggest selling county magazine, each issue is a tub-thumping rallying call for the county filled with stories celebrating the people, places, institutions and businesses that make the county a wonderful place.
Former editor of the Lancashire Evening Post and the Birmingham Mail, he's also appeared on the radio, presented Marketing Lancashire awards and spoken to different groups about Lancashire – from addressing Women's Institute meetings around the county to speaking at the Lancashire Pork Pie Appreciation Society. He has also created many magazine supplements and contributed to national magazines which have promoted Lancashire's many charms to an even wider audience.
He's taken the message further afield too including at the Association of Lancastrians in London last year. Each edition of the magazine encourages people – locals and tourists alike – to get out and discover, or re-discover, the best of Lancashire.
Barbara Bryan, Mytton Fold Hotel & Golf Complex
Barbara is from a farming family who, when faced with hardship in the 80s, diversified the farm into a guesthouse and restaurant. Under Barbara's stewardship, the business has flourished into a 43-bedroom hotel with large function rooms and an 18-hole golf course.
Barbara was also responsible for bringing Footgolf to Lancashire. The game, where you kick a size five football around a golf course – attracts visitors in their droves.
An active member of the Ribble Valley Tourism Association, Barbara works with other like-minded individuals to encourage visitors to Lancashire. You might find her hosting national or international travel writers at the hotel or working with the Forest of Bowland AONB on their Dark Skies and Walking for All projects, all of which boost visitor numbers. She is also County Commissioner for Lancashire East Girlguiding and hosts Girlguiding groups from around the world providing them with lasting memories of the county.
Simon Entwistle, Top Hat Tours
Simon is an independent tour guide who has a knack for storytelling and capturing the imagination of visitors of all ages. He's a person with the ability to share the county's heritage, folk tales and culture in an interesting way at a wide range of attractions and locations across Lancashire. His Pendle Witches, Haunted Inns and Lancashire Ghost Tours – just a few of the walking and coach tours he does – are hugely popular with groups and individuals from all over the world.
It is not unusual to find Simon out in the countryside with film crews from across the globe, promoting Lancashire to international audiences. He also has an extensive collection of films on YouTube that take his entertaining storytelling – and Lancashire history – to an even wider audience. Closer to home, listeners to BBC Radio Lancashire enjoy his stories from the county on his regular slot.
James Whewell, Wyresdale Park
Since returning to the family seat, James Whewell has revolutionised the offer at Wyresdale Park, an 800-acre estate of woodland, pasture and upland fell and lakes. As well as Launching the Applestore Café, located in a characterful glasshouse in a beautiful walled garden, Wyresdale Park also hosts high-end camping, offers fishing and shooting and events and weddings – the latter in a former derelict sheep barn. Co-worker shared office spaces have also been established, under James' guidance, to assist start-ups and establish a creative community.
James, who returned to Lancashire after working in the south establishing art and music festivals, has worked to re-establish Nicky Nook as a must-visit destination in Lancashire and has boosted Wyresdale Park and Lancashire's profile to outside of the county borders with appearances on Drew Pritchard's Salvage Hunters, Country House Rescue, a profile in the Financial Times about diversifying country estates. He is also working on providing eco holidays. Wyresdale is now a multi-functional tourist destination designed to attracted visitors inside and outside of the county.