You are here:
/
Headline Sponsor 2016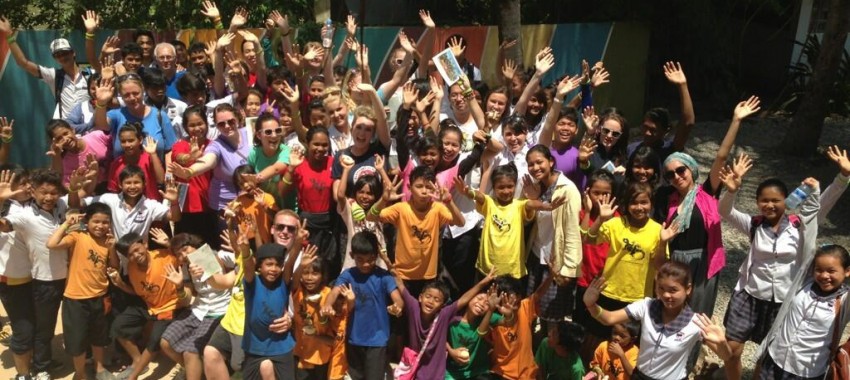 Headline Sponsor 2016
The University of Central Lancashire
Making a difference in the world through the power of education is a key component of UCLan's Tourism, Hospitality and Event Management programmes.
During the past few years our undergraduates have worked hard to raise money for a variety of UK and international charities as part of their academic studies.
The Green Gecko Project in Cambodia is one scheme to benefit from our students' work, with this year's efforts raising around £5,000 for the South East Asian children's charity.
As part of a final year module the students organised a series of events ahead of a life-changing trip to Cambodia to visit the Project – a school for disadvantaged children.
The trip helps students enhance their learning in a developing country, whilst gaining personal and professional skills by volunteering at Green Gecko.
The group also experienced the rich culture and diversity Cambodia has to offer by visiting various tourist attractions, including the famous Temples of Angkor.
Dr Philip Stone accompanied the students during the trip. He said: "This was my first visit to Cambodia and the Green Gecko Project and I left with an overwhelming sense of the warmth and hospitality of the Khmer people.
"The contribution of the staff at the project to the children and their immediate families was also amazing to see. I was delighted our students had the opportunity to add a very positive contribution during their visit. I know they thoroughly enjoyed the experience which will stay with them as they graduate and beyond.
"The trip was a huge success, largely thanks to Pete McGrath's meticulous planning, leadership and organisation of the module, as well as students' engagement in teaching and learning at Green Gecko."
This year's total takes the overall amount raised by UCLan students to over £43,000 – cementing our commitment to making a difference to society. Student James Price said the trip has inspired him to consider a possible career in education.
"My time in Cambodia was an eye-opening experience that I'll never forget," said James. "I saw some amazing sights and made some brilliant friends. Green Gecko was my highlight – being with the children and teaching them new skills was incredible. This experience made me think a career in teaching is the way forward."
Abi Housley added: "Thank you for giving me the opportunity to be part of the trip and meet the Gecko kids – it really has been one of the best experiences of my life to date.
"People keep asking me how it was, but there really are no words to describe my feelings. All I know is I will definitely be going back there one day."
In addition to supporting Green Gecko, our students have also organised events which raised thousands for Barnardo's and Rock FM's Cash for Kids charities.
This money makes a real difference to the lives of local youngsters and ensures our future graduates are not only skilled in their respective industries, but are also able to exercise important ethical, social and environmental responsibilities.